We can make your fashion footwear and boots shine again. We clean and restore high heels, designer athletic shoes, cowboy boots, slippers, suede and leather boots including Ugg boots. Restore the beauty and extend the life of all your family's footwear.
You'll be delighted with the results of our leather cleaning methods for leather and suede shoes. Water and salt stains can damage leather if left untreated. Our cleaning process removes these stains and restores the colors and oils.
Leather shoes and boots that have lost color from wear can be cleaned and refinished with dyes that withstand wear much better than shoe polish.
Send us your most hopeless (but loved) pair of boots or shoes and you'll become a lifelong customer. We'll even tackle antique shoes and baby shoes you have in your attic and make them sparkle again.
[one_third] Family Boots & Shoes
Sheepskin Boots
Cowboy Boots
Fashion Boots
Designer Boots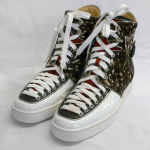 [/one_third] [one_third] Women's Shoes
Designer Athletic Shoes
Women's Leather Heels
Women's Suede Heels
Women's Suede Shoes
Women's Slippers
Leather Shoes
Men's Dress Shoes
Men's Boots
Designer Athletic Shoes
Men's Slippers
Moccasins[/one_third] [one_third_last] Designer Shoes
UGG Boots
Frye Boots
Sperry
Coach
Nike Air Jordan
Valentino
Ferragamo
Manolo
Armani
Prada
Gucci
[/one_third_last]
Don't Wait
Salt and winter grime can cause permanent damage to leather as it sits in your closet. We'll remove it and condition the leather so, when winter rolls around again, you'll be ready for it. It's best to clean your winter boots right after winter ends so the leather isn't permanently damaged, but if you forgot, don't despair! There is still hope to restore them.
Estimated Pricing
| | |
| --- | --- |
| Leather Footwear | Basic Pricing |
| Boots | $40 |
| Shoes & Slippers | $30 |
| Athletic Shoes | $30 |
| Heels | $30 |
Once we receive your shoes or boots and evaluate their condition, the following things may influence the cost of cleaning and you will be notified before any additional charges are incurred:
Designer Items
Fur Lining or Trim
Non-Standard Refinishing
The do-it-yourself cleaner sold to this customer when they bought their Ugg boots made matters worse!
They were sent to us and we were able to remove the deep stains in the suede and dye them to return the leather to its original color.