We did a little test to see the actual difference it makes when using Ram Leather Care's water repel service. We had two squares of shearling to represent the skins on typical UGG boots. We water repelled one piece (WR) and left the other untreated. We placed both squares skin side down in a bowl of water. The result? The treated square repelled the water while the untreated square became saturated. When both skins dried, the water repelled square was soft and unblemished. The skins on the untreated square had lost some of its softness and the texture of the skin was more prominent.
[one_third]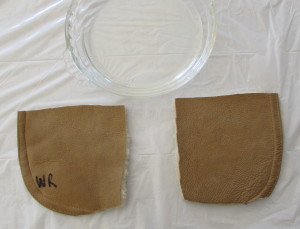 Shearling Squares Dry
[/one_third]
[one_third]

Squares Soaking
[/one_third]
[one_third_last]

Shearling Squares Soaked
[/one_third_last]
Applying water repel to clean boots will help protect against skin damage caused by water, salt and stains! We suggest this added service to protect your suede boots, jackets and coats.