Our 40 years of experience insures your leather garments and accessories will be properly evaluated upon their arrival. Each type of leather must be treated differently to maintain its unique properties, finish, and texture.
Leather is a general term for a full spectrum of skins and hides from animals large and small. Some are fragile like Ostrich which others can withstand tough procedures like the hides used for work boots. We have the experience to handle your finest possessions with treatments most appropriate for their grades and finishes. We also have the ability to change them, if you wish.
Here are some things to consider as you decide
what you want us to accomplish:
[one_half]
Refinishing Leather & Suede
Refinishing leathers is part of our cleaning and restoration process. It restores color lost through wear and oxidation returning the garment to "like-new" appearance. Suedes are particularly prone to oxidation. Dyes can be added to suede oils which may help mask fading and color changes from exposure to UV light. For severely oxidized or stained suedes, ask about our immersion dye that can change the color to black or brown.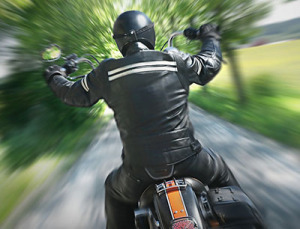 Distressed Leather
Some leather garments are created to look distressed; others achieve it through years of proud use! If you would like to keep the distressed appearance of your garment, let us know before we refinish it. We might make it look better than you want it to be. You also have the option of a clear top coat which just adds a shine.[/one_half] [one_half_last] Leather and Fabric Combinations
Designers combine leather and fabric on garments for a unique and beautiful look. However, dark dyes may bleed onto light fabric unless the garments are cleaned by hand. Cleaning these garments involves some risk the customer must be willing to accept before we begin. The cleaning cost is based upon the time required to complete it.
Glazing of Shearlings & Remys
In addition to dyes used for restoring color, some garments have an additional clear glaze coating. Some shearlings and Remy brand jackets have this glaze. It needs to be reapplied during the refinishing process. There is an additional charge for glazing.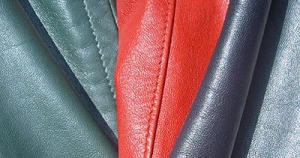 Multiple Colors on Finished Leather
Some garments combine two or more colors next to each other on a garment. If the finish is worn, it may require hand refinishing. These garments will be quoted before processing begins. (Please note this does not apply to suedes.)
Nudes or Naked Leather
Some skins are called nude or naked because there is no sealer coat applied by the tanner. These skins are very soft and have a buffed or sueded appearance and feel. Because no barrier is applied, soil will penetrate the skins and may cause permanent stains. When cleaning cannot remove the stains, dyes can be used to mask them and make the skins darker. Every attempt is made to safely remove stains and maintain the original color, however, you should be prepared for a change of color after cleaning.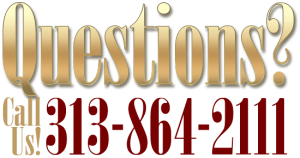 [/one_half_last]
Your Special Instructions are Carefully Followed
Let us know any specific instructions when you place your order. We may contact you through email or phone to get further information if we require it after we've received your items and inspected them. You are welcome to contact us with questions before you place your order. We want you to be fully informed so, when you ship your leather goods to us, you know we will handle them properly.
Find out more about our Our Leather Cleaning Approach so you feel comfortable sending us your most important leather items.