We can clean and restore all fabric and leather garments and accessories following a flood or fire. Count on us to remove mold, mildew, and the odor of smoke from your belongings.
When a disaster strikes, it's difficult to deal with the instant changes it brings.
Ram Leather Care brings your life back into balance with expert fire restoration and flood restoration services. We will guide you to the best solutions.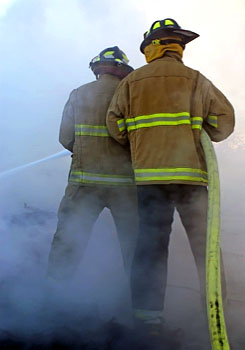 We can rescue items damaged by fire, smoke, water, and mold. We will work with your homeowner's insurance agent to estimate the cost of cleaning and restoring your belongings following the catastrophe so an accurate disaster insurance claim can be submitted to your insurance company. Then we can begin the tasks required to remove soil and soot from garments.
Secondary Fire & Water Damage
We handle the dirt and grime caused by disasters with decades of experience, but that's only part of our solution. Disasters bring with them mold, mildew and smoke odor. We can clean and refinish all but the most seriously damaged leather garments and accessories at a fraction of the cost of replacement. This relieves you of the stress of replacing your favorite garments and helps restore continuity to your life. It also saves available coverage dollars for other necessary purposes.
Take Action Quickly
After a disaster, hang your leather and fur garments to dry away from heat. If you are able to bring your garments directly to us, do it as soon as possible even if they are wet. We can clean the garments and leather items then dry them in the proper environment before mold and mildew sets in.